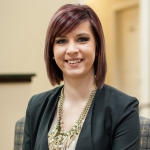 How do you build a good team? We think it's all about assembling a group of like minded individuals who are committed to achieving success, together. Teamwork is important, but so is morale. Having a good sense of humor also helps. Here at Melrose Title Company, we are very proud of the team of incredible folks we get to work with.
We believe that with the right people, and a dedication to giving our clients unforgettable closing experiences, we can keep building this amazing company.
We're excited to take this opportunity to spotlight one of our team members on the Melrose Title Company blog. Meet Megan Key, a Processor/Post Closing Specialist. Megan has been with Melrose Title Company since February of 2015.
A Knoxville native, she has previous experience in the medical industry, including a license in Medical Coding and Billing, Medical Office Management, and Pharmacy Tech.
Megan says she thoroughly enjoys working closely with her clients, both home buyers and sellers and real estate agents. She has made a lot of friends along the way and says it's very rewarding to know she helped someone achieve one of their goals by buying or selling a home.
We asked her to share one meaningful lesson she's gained from her colleagues and Megan shared this: "Love what you do or find something else to do. A career shouldn't be something you dread, it should be something you love. And I love it!
We are so fortunate to have a wonderful team of people at Melrose Title who love what they do. It makes all the difference in the level of service we can provide to our clients.
In her free time, Megan says she LOVES being with her brand new baby girl Sadie, just watching her grow. She enjoys her weekends with fiance Brandon and her little girl. They like to adventure around and are enjoying finding new hobbies and traditions to enjoy with baby Sadie.
We love our staff and we're thrilled to spotlight Megan, an incredible member of our Melrose Title Company team!