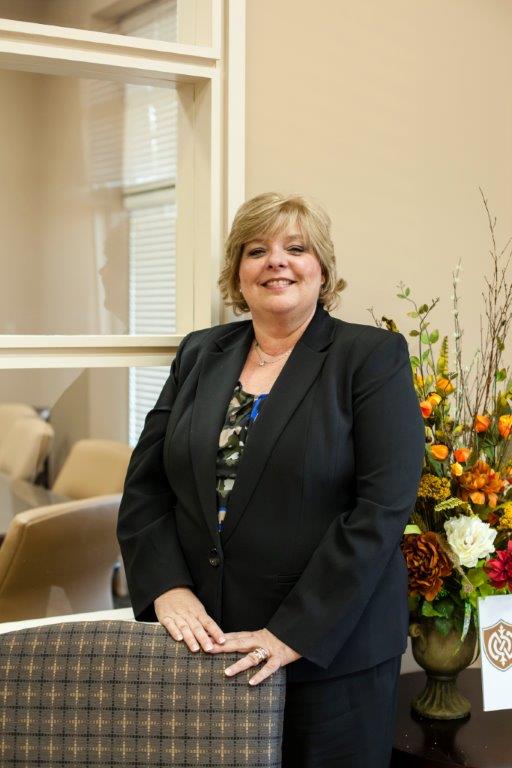 How do you set out to create an amazing company?  Much of a company's success comes from assembling a group of like minded individuals who are committed to achieving success, together. Not only is it necessary to have a good team, but it's also crucial to have the right leader in place. Here at Melrose Title Company, we feel very fortunate to have someone like Robin Morgan charting our course. And to kick off the new year, we're spotlighting Robin on the MTC blog.
Robin has been part of Melrose Title Company since the very beginning when our company was founded by a group of local partners in Oct. 2014. A native of East Tennessee, Robin is originally from the Hardin Valley area, but calls Farragut her hometown.
While in school, she began a career in finance working at Chrysler Financial as a wholesale assistant and flooring cars for dealerships. She was an Operations Manager for the Kmart corporation for 10 years. Robin has worked in the mortgage industry and she also obtained her realtor license and sold real estate for a short time.
Robin started her career in the title industry over two decades ago. She was mentored by an title attorney in Nashville, Tennessee and became an Assistant Manager for his agency in Knoxville. Although she has worked for two different agencies since then, she notes that she because of her current role at Melrose and her relationship with the company partners, she is finally able to make the most of her experience and education to make a difference as this industry changes.
Robin says her favorite thing about her job at Melrose Title is getting to inspire her staff to be the best they can be. She has loved watching each of them come into their roles and adheres to the belief that "it's not what you do, but how well you do it."
When we asked Robin what is most rewarding about her job at Melrose, she said the rewards are many. She mentioned continued support from clients, partners and our underwriter. That doesn't mean Robin hasn't had challenges in her position as Operations Director, but with a clear vision in mind and sheer determination, Robin has worked diligently to make Melrose Title Company the best in our market.
She believes there is no limit to where we can go with Melrose Title Company. She has built her career on the quote: "Personality opens doors, character keeps them open." These are the words she lives by every day. She notes the importance of this to her personally and also in her role at MTC.
When we asked Robin about something meaningful she has learned from a colleague, she said she has learned the only person you can control is yourself. She noted that you cannot control others, but it's important to let them be them, and you be you.
In her free time, Robin enjoys taking walks at Campbell Station Park, visiting with her adorable grandson, her daughters and her sisters. She has been married for 34 years to Kevin, lives in Farragut and has two daughters, one grandson and a grand dog. On any given Saturday, you might find Robin shopping for home interior items as she is a self-proclaimed interior decorator at heart.
Robin has brought some of her warm, welcoming aesthetic to the interior of Melrose Title Company as well, transforming the office into a more friendly and cheerful place. If you've worked with Robin in any capacity, you've probably witnessed her generous spirit firsthand. If you don't know Robin and her team, we invite you to get to know them in 2017!